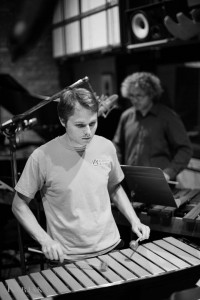 Dr. Joe Murfin is a professional musician and educator based in New Haven, CT. Known for his versatility, he is proficient in a wide variety of musical styles and has extensive experience performing popular, classical, and world music.
As a drum set artist, Joe has performed throughout the United States and has played with such artists as Derek Kinsaul, JB Roberts, and Ryan Alan Linguiti. He performs in a variety of genres, including rock, blues, country, latin, and jazz. He is also an experienced musical theater percussionist and has performed professionally with the SEACT Theater Group, the Four Seasons Theatre, and the Tommy Ensemble.
As a classically-trained musician, Joe has a robust background in orchestral and chamber music. Most notably, he is a former founding member of Clocks in Motion, a Madison, WI-based chamber ensemble that performs challenging contemporary percussion works. The group performs around the Madison area and has recently embarked on several concert tours across the United States. Joseph performed extensively on Clocks in Motion's debut album, Escape Velocity, released in 2014.
Joe also has a special interest in the music of Brazil and has an affinity for Brazilian percussion instruments, especially the pandeiro. He has recently completed several Brazilian-based residencies at the Interlochen Arts Academy, where he taught classes on samba and gave a lecture recital on the use of the pandeiro in traditional and non-traditional ensemble settings. In the New Haven area, he often performs with Sambaleza and the Bossa Nova Project.
Joe has performed and taught masterclasses in various venues throughout the country.  His recent notable performances include concerts at the Percussive Arts Society International Convention, the University of Michigan, the Wisconsin Institutes for Discovery, Butler University, Ohio University, Cleveland State University, the Savvy Musician in ACTION Music Entrepreneurship Retreat, and Interlochen Arts Academy, as well as many other venues and universities around the United States. Joseph has also presented masterclasses for the University of Michigan Percussion Studio, the West Liberty University School of Music, the Cleveland State University Department of Composition, Youngstown State University,and the University of Wisconsin-Platteville.
Joe has served several times as a guest artist in residency at the Interlochen Arts Academy. During the residencies, he worked with the Interlochen Percussion Studio by providing masterclass coaching, giving private lessons to students, and performing feature concerts of contemporary percussion music. He also performed a series of a concerts in collaboration with the Interlochen Dance Department and led a series of percussion clinics with the Interlochen Singer-Songwriter Department. Furthermore, he was the 2014-2015 a composer not-in-residence for the Interlochen Comparative Arts Program and has been a guest instructor at the academy's two-week inter-mester semester.
In addition to his love of percussion performance, Joe has a particular passion for percussion education. While living in Alabama, he worked as an instructor for the Enterprise High School and Opelika High School band programs. He also served as assistant percussion instructor for the Auburn University Drumline and Front Ensemble, alongside Dr. Doug Rosener. While living in Madison, WI, he was the percussion coach and assistant percussion instructor for the Wisconsin Youth Symphony Orchestras and was an instructor with the Sound of Sun Prairie marching band, Light House Brigade marching band, and Waukesha North High School band. He also served as a graduate coach for the University of Wisconsin-Madison Percussion Ensemble.
Joe's additional musical interests include popular music from Brazil and Cuba, which he studied under Dr. Neil Sisauyhoat and Tom Ross. He has also studied middle eastern frame drumming with Dr. Todd Hammes. Joseph enjoys arranging and composing for percussion and has several pieces available through Jalen Publishing. Joseph holds a Doctorate in Musical Arts in Percussion Performance from the University of Wisconsin-Madison. He also holds bachelors degrees in music education and mathematics from Troy University as well as a Master of Applied Mathematics from Auburn University and a Master of Music from the University of Wisconsin-Madison. His primary teachers include Dr. Anthony DiSanza, Dr. Doug Rosener, Bryden Atwater, and Jason Smith.